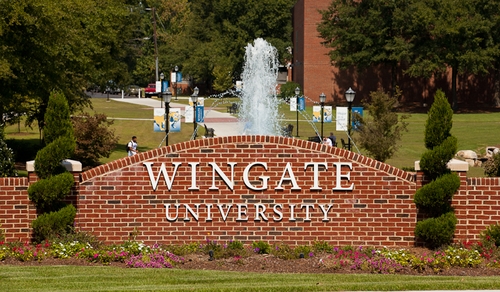 WINGATE UNIVERSITY is a private, comprehensive liberal arts university that blends in-class learning with out-of-class application to deliver a life-changing experience. The original campus is located in Wingate, North Carolina, and two additional campuses are located in the Ballantyne neighborhood of Charlotte and Hendersonville, North Carolina.
All Wingate University students are given the support they need to succeed. Since Wingate has a 14-to-one student-to-teacher ratio, students never feel like just a number as a Wingate University student. In class, students get the personal attention they each deserve.
QUICK FACTS:
Founded: 1896
Motto: Faith, Knowledge, Service
Enrollment: Nearly 3,200 students on three campuses; 65% of students are pursuing undergraduate degrees, 35% are enrolled in a master's or doctoral-level program
Academic Progams: 35 undergraduate majors, 9 pre-professional programs and 35 minors
Student-to-Faculty Ratio: 14:1
Campus Life: International study opportunities, approximately 50 registered student organizations including sororities, fraternities, academic clubs, honor societies, service organizations, intramural sports and student government
Athletics: 20 NCAA Divison II Wingate University sports teams; 26% of undergraduate students play on NCAA teams
International Students CLICK HERE for a List of Undergraduate and Graduate Degrees
CLICK HERE to visit Wingate University's Website for International Students
---
OVERSEAS PROJECTS
Wingate University's international studies programming continues to branch out and grow. During the 2005-2006 year, 138 juniors and seniors took advantage of study abroad opportunities. With our 10-day study/travel program, W'International, students chose to study either the First Peoples of Canada in Alberta, Hong Kong's colonial past, the Allied landings on D-Day along the Normandy coast, 20th-century Chilean history and literature in Santiago and Puerto Varas, the biodiversity of Costa Rica's Pacific coast, or the vibrant cultural blend of the Rhône-Alpes region of France.
Additionally, 17 students spent the semester studying in the U.K. as part of the Wingate-in-London program, while others spent the semester in Copenhagen, Denmark. In 2006-2007, our W'International seminars will be taking students to Germany, Singapore, Croatia, Italy, Mexico, and Scotland. Meanwhile, other students will be studying in London, Copenhagen, or Alcalá, Spain for the semester.

Wingate students living the gladiatorial
life at the Arena di Verona in Italy

Wingate student climbing the ancient
pyramids of Mexico's Teotihuacan