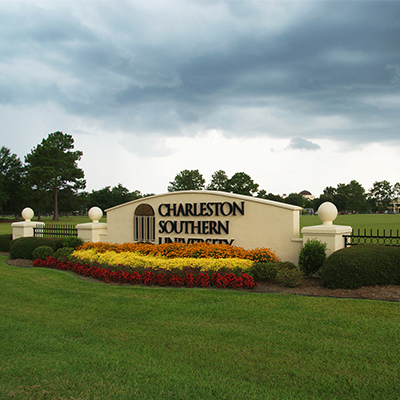 CHARLESTON SOUTHERN UNIVERSITY, founded in 1964, is located near historic Charleston and the beautiful beaches of the South Carolina coastline. Affiliated with the South Carolina Baptist Convention, Charleston Southern is one of South Carolina's largest accredited, independent universities, enrolling 3,600 students.
Beyond the classroom, students participate in a variety of campus activities including academic clubs, community service, intramural athletics and campus ministries. The University offers intercollegiate athletics for both men and women, competing in the NCAA Division I Big South Conference. Charleston Southern fields teams in basketball, baseball, softball, soccer, cross country, track and field, golf, tennis and volleyball, as well as a Football Championship Subdivision football team.
CSU has been named a College of Distinction, America's 100 Best College Buys, U.S. News and World Report Best Online Programs, Military Friendly Schools, America's Best Christian Colleges, VA Yellow Ribbon Program and The President's Higher Education Community Service Honor Roll.
STUDENT TESTIMONIES:
Logan L. – "I just can't even put into words all the knowledge that I've gained from the amazing professors; they know your strengths and weaknesses … the small class sizes are amazing. They know your name and you're not just a number. They care and want to do whatever it takes to help you succeed."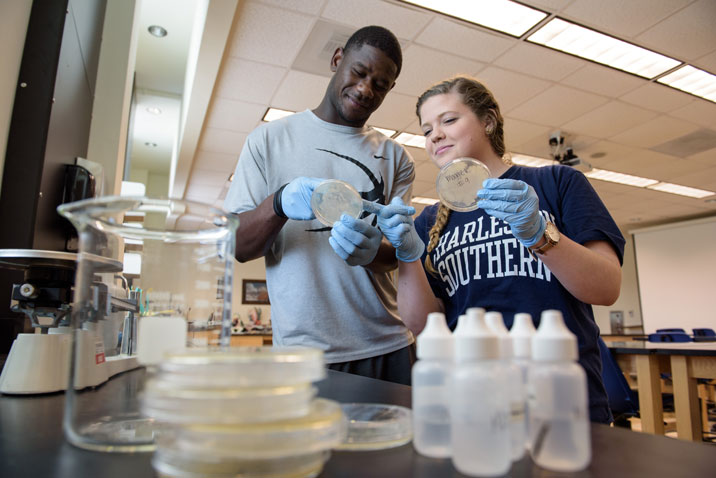 Savannah S. – "Charleston Southern University is a very welcoming environment. The faculty and staff are all caring and helpful."
CHARLESTON SOUTHERN has a student/faculty ratio of 14:1. The University is accredited by the Commission on Colleges of the Southern Association of Colleges and Schools to award bachelor's degrees in 48 majors and ten master's degrees in business, criminal justice, education, nursing, athletic training, computer science and organizational management. Each degree program is combined with a comprehensive liberal arts foundation, which is designed to develop problem-solving and communication skills.
International Students CLICK HERE for a Profile Sheet and Listing of Undergraduate and Graduate Degrees
CLICK HERE to visit Charleston Southern University's Website for International Students
Note: This institution is a CGE Member. Click the link to learn more about the Benefits of CGE Membership.
---
OVERSEAS PROJECTS:
Don Clerico (Office of International Programs): Exploratory trip to Yonok University and high schools in Lampang, Thailand
John Sullivan (Business): Paper presentation at international conference in Vancouver, British Columbia
Sally Brown & Rebecca Hill (Education): Exploratory trip to Costa Rica
Linda Karges-Bone (Education) & Students: Study tour of Great Britain
Achalew Kebede (Religion): Teaching at Yeetiopian Mulu Wongel Metsehaf Kidus College, Addis Ababa, Ethiopia
Jim Barrier & Steve Best (Biology): Elephant Research Center, Lampang, Thailand
Allen Hendricks (New Vision Director/Music): Exploratory trip to Mexico City
Patty Hambrick (Technology/Education/Grants): Exploratory trip to Tecate, Mexico
Don Clerico (Education) & Students: Teaching & Learning in Ghana Program - (pictures below)