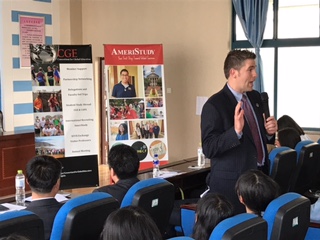 American university admission officers usually ask for a score from either the SAT (Scholastic Aptitude Test) or the ACT (American College Test) as a critical piece of the application process. Although some may not require either score, a student applying for scholarships or financial aid must subit one of these test scores.

Top ranked universities require a very high score for acceptance, and for all universities, when applying for scholarships or financial aid, the higher the score, the greater the financial award potential.

AmeriStudy offers an online ACT course, with videos and course materials, to increase your investment return as you seek acceptance to American universities or scholarship assistance. The course is designed for students who cannot attend our in-classroom prep program. SAT prep assistance is coming soon.
Benefits:

-Instructors with more than 15 years experience in ACT Preparation
-Full Course Videos of a Previous Class
-15 hours of Class Time through video instructors
-Classwork and Homework from 9 previous ACT Tests
-Includes online Materials, including ACT Red Book study guide
-Course Built on Thorough Analysis of 48 Previous ACT tests
-Additional Math Videos Online
-License for One Student to Use for 100 days following Purchase Date
-Once the course is selected and paid for, the student will receive a "How to Get Started" email so they can begin the course. Access is given only for the one student enrolled. Access -numbers are tracked within the robust delivery system and violations can result in that access number being cancelled.

If you are an educator and want to receive material for a classroom setting for a group of interested students, please send an email to dbishop@ameristudy.org.