Study on a beautiful Baltic campus with students from over 25 other nations!
CGE offers a unique study opportunity, designed for American students, in cooperation with our member university, LCC International in Klaipeda, Lithuania. The campus is located just minutes away from the Baltic Sea and in walking distance to the historic downtown district.

Students learn in an international community and travel Northern Europe, Russia and the Baltic States - all while earning academic credit at a Christian liberal arts university.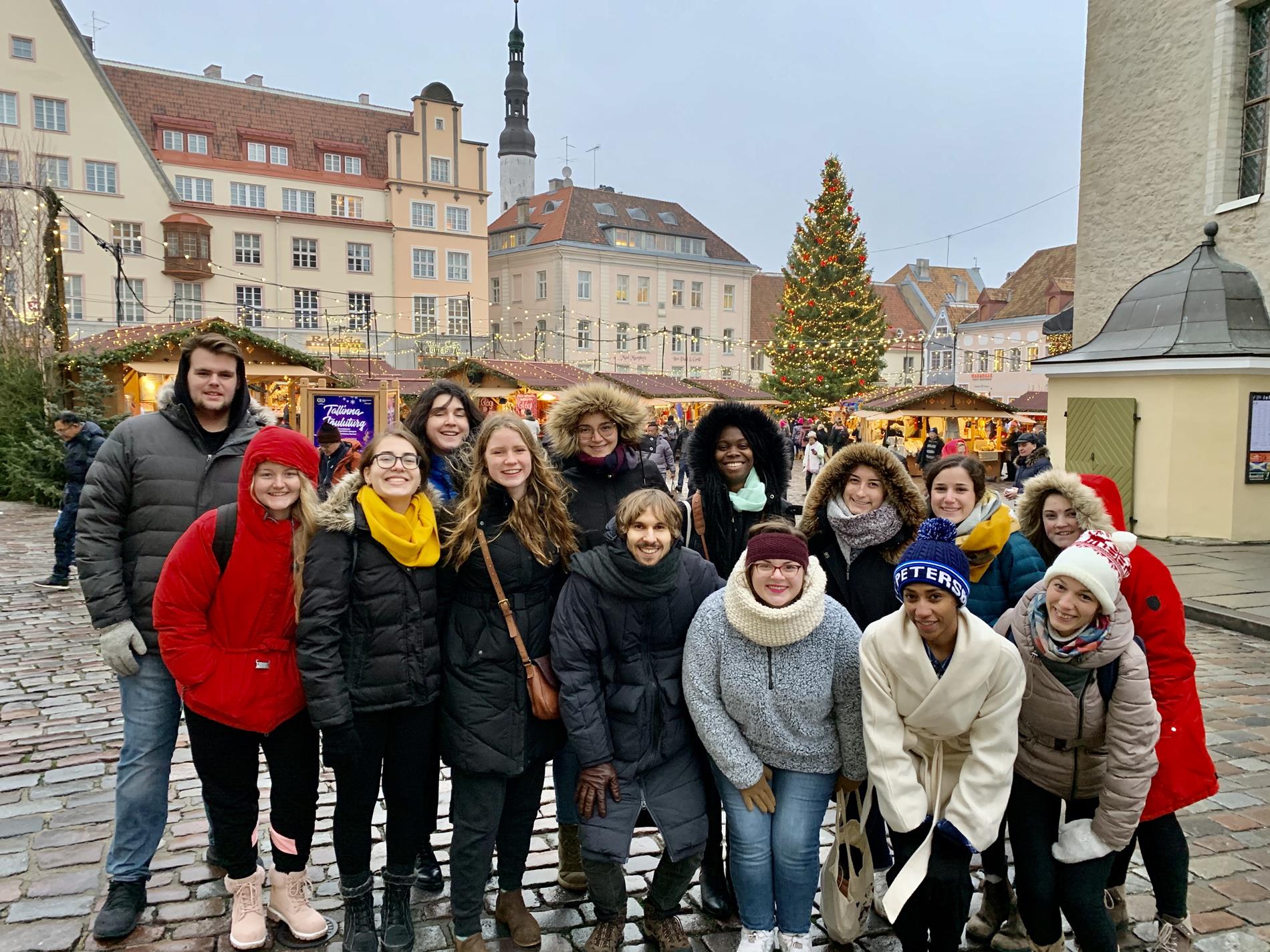 This program is open to all majors and is an excellent fit for Business, English, Psychology, Communication, International Relations and Theology students. All courses are taught in English and are transferrable as major or general education credit. LCC's international academic nature exposes students to a variety of cultures and enables them to integrate challenging subject material with diverse classroom discussion and intercultural engagement.

While on campus, students are enabled and encouraged to immerse themselves in the community through service and academic opportunities. Study Abroad Lithuania partners with local organizations to allow students to volunteer at orphanages, churches and charities. Students also have the opportunity to enhance their resume and gain work experience by completing an internship or practicum abroad.

Cross-cultural learning also takes shape during three program-led trips. In addition to orientation travel in Lithuania, students spend a weekend exploring the Baltic capitals of Latvia and Estonia, and nine day enjoying the highlights of Moscow and St. Petersburg, Russia.

Study Abroad Lithuania is an adventure packed with international experience, European culture and new friendships.
FALL SEMESTER 2021 DATES:
February 1 Early Acceptance Deadline
March 15 Application Deadline
Aug. 24 - 29 Orientation & Travel in Lithuania
August 30 Semester Starts
Oct. 30 - Nov.7 Fall Break: Trip to St. Petersburg & Moscow
Nov. 26 - 28 Weekend Trip to Riga & Tallinn
Dec. 13 - 17 Final Exams
December 18 Departure from Lithuania
SPRING SEMESTER 2022 DATES:
September 15 Early Acceptance Deadline
October 15 Application Deadline
January 4- 9 Orientation & Travel in Lithuania
January 10 Semester Starts
March 5 - 13 Spring Break:
April 1 - 3 Weekend Trip to Riga & Tallinn
April 25 - 29 Final Exams
May 1 Departure from Lithuania
FALL 2021 AND SPRING 2022 SEMESTER COST: $
15-17 North American semester hours or 30-33 European semester hours (5-6 courses)

Housing shared room with 3 international roommates

Monthly stipend (cash) for food and entertainment

Orientation week travel throughout Lithuania

Weekend trip to Riga and Tallinn

One week semester break trip to St. Petersburg and Moscow

Lithuanian student visa

Russian Tourist visa

Use of textbooks from the LCC library (you don't have to buy them)

After you submit your LHU Study Abroad Application please notify our CGE Study Abroad office (studyabroad@cgedu.org). You will then receive an email from a CGE Study Abroad representative with a step-by-step checklist of additional documentation required. Please answer "Other" when asked "How did you first learn about this program" and then in the Box below add "Our campus is a CGE member university/college."

Want to hear more? Check out the official website for LCC International University Study Abroad, where you can find application information, contact emails, and more!For further inquiries into the program in Lithuania, please send an email to studyabroad@cgedu.org or call 770-321-4897.