University of Mary Hardin-Baylor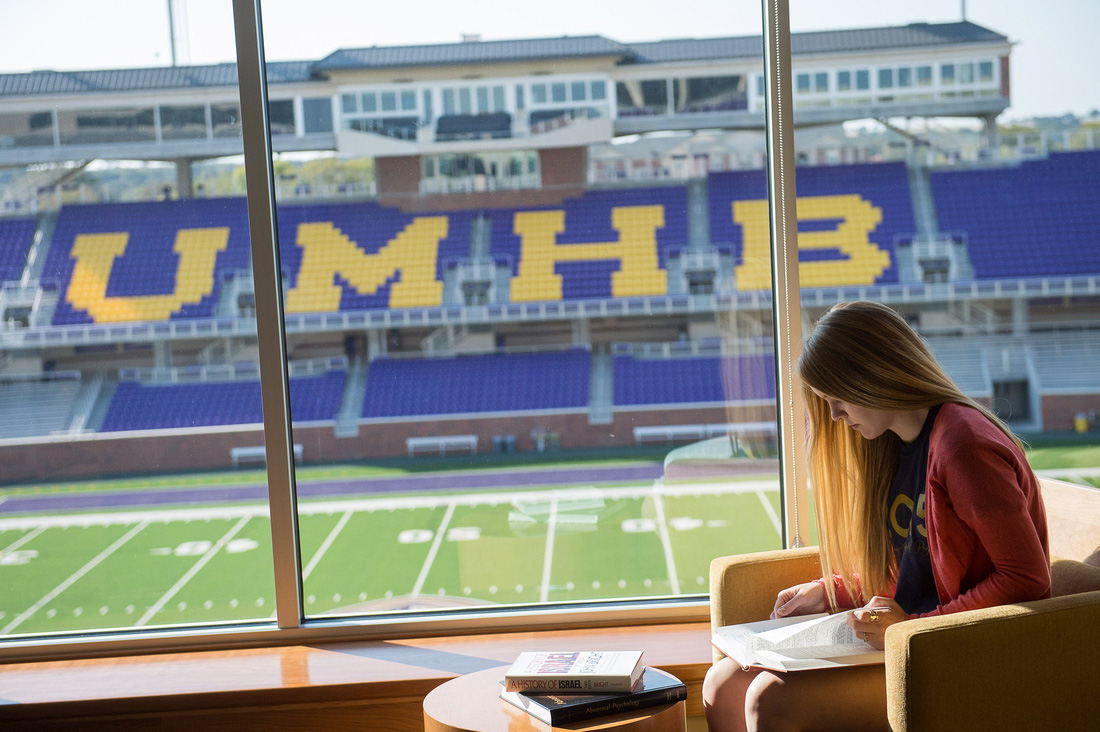 University of Mary Hardin-Baylor
www.umhb.edu
The University of Mary Hardin-Baylor prepares students for leadership, service, and faith-informed discernment in a global society. Academic excellence, personal attention, broad-based scholarship and a commitment to a Baptist vision for education distinguish our Christ-centered learning community. UMHB was chartered in 1845 by the Republic of Texas making us the oldest continuously operating college in the state.

The University respects each student as a unique individual who has a distinct perspective on the world. Therefore, students are welcomed from diverse backgrounds because UMHB believes exposure to different cultures and experiences within a Christian environment enrich the educational process. The university strives to create an atmosphere where every student is an integral part of our learning community. UMHB places student achievement first and emphasize this through personal attention, small class sizes, teaching excellence, campus activities, athletic programs, and leadership opportunities. UMHB is committed to encouraging each student to reach his or her potential spiritually, academically, socially, and physically.

The University of Mary Hardin-Baylor is located in the "heart of Texas," only 55 miles from the State capital of Austin and 135 miles from the Dallas-Fort Worth metroplex on Interstate 35. The campus is nestled in the natural beauty of Central Texas' rolling plains and wooded hills and captures the spirit of scholarly pursuit within its historic buildings and spacious, well-maintained campus.
Chartered: 1845
Location: Belton is located in the heart of Central Texas, 60 miles north of Austin on Interstate 35
Enrollment: More than 3,900 students representing 31 foreign countries; 94% of full-time freshmen live on campus
Student-to-Faculty Ratio: 19:1
Financial Assistance: 87% of students receive some form of financial aid
Academic Programs: Over 45 areas of study
Athletics: Competes in NCAA Division III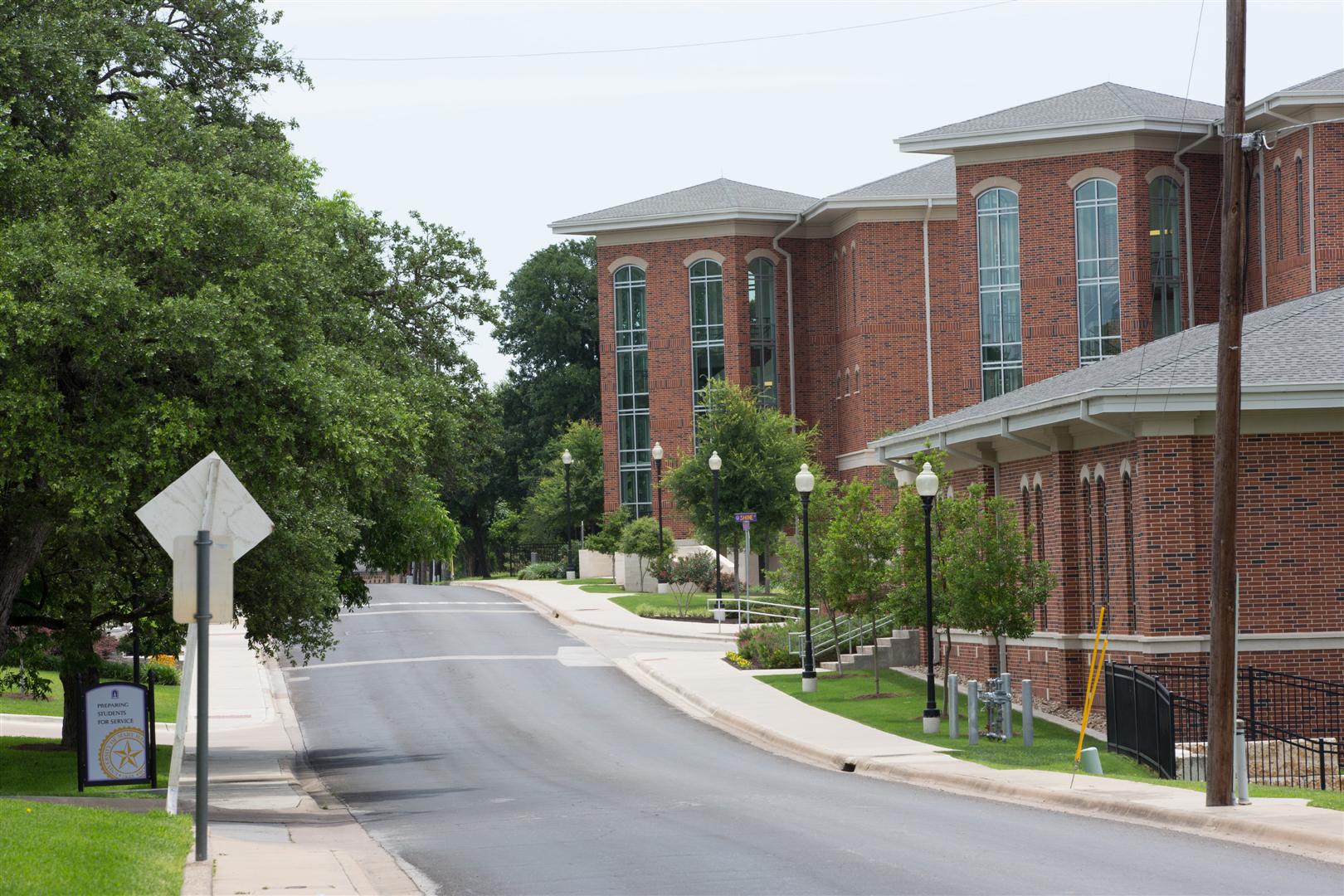 International Students CLICK HERE for a Profile Sheet of Facts

CLICK HERE for a List of Undergraduate and Graduate Degrees

CLICK HERE for the University of Mary Hardin-Baylor's Website for International Students

Note: This institution is a CGE Member. Click the link to learn more about the Benefits of CGE Membership.
Six students traveled with Dr. Steve Wyrick (Christian Studies) for 16 days of study in Israel and Egypt during the Christmas holiday period.

Four students are spending their spring semester in our London Studies Program (with Hardin-Simmons University); all enrolled in 12-15 hours (with UMHB's Dr. Chris Ballard - Psychology) and other American and British professors.

Eighteen students will leave for Ecuador during spring break to study international business with Dr. Barbara Dalby (Management), CGE Board Member.

Summer trips include student coursework in Morocco (Dr. Jim King - Dean, College of Business) and Mexico (Dr. Yolanda Forrero-Villegas - Spanish).

Over 20 new international students are calling Belton, TX, home this spring as UMHB continues to reach out to undergraduate and graduate students from around the world.

New faculty in Computer Science (Dr. Chao Gong) and Chemistry (Dr. Lin Gao) join visiting Fulbright Scholar Yan Yong from China this year as UMHB doubled its international faculty members.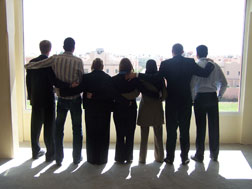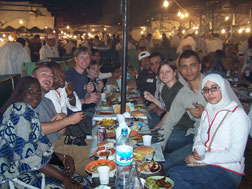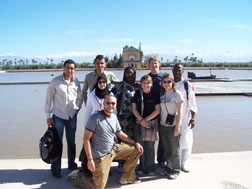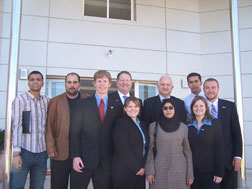 Arm-in-arm, American students from University of
Mary Hardin-Baylor and Moroccan Business
students look out into their future!
UMHB students make long-lasting friendships
over food in Morocco
The Students Training Students team in Morocco
The Students Training Students team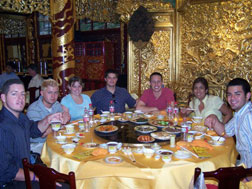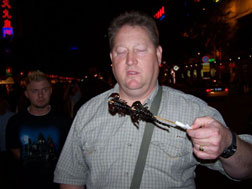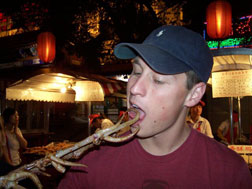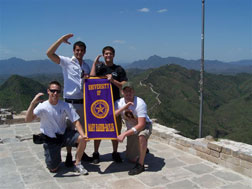 It's all about the food and fellowship when
University of Mary Hardin-Baylor travels abroad!
Dr. Jim King, our Dean of the College of
Business, experiences Chinese treats
Here is a UMHB student broadening his
cultural horizons! Mmmm!
UMHB undergraduates at the Great Wall of
China show their school spirit!