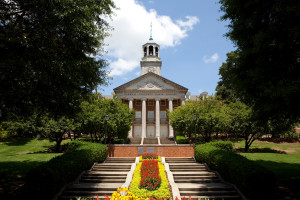 Samford University
www.samford.edu
SAMFORD UNIVERSITY is Alabama's top-ranked private university with nationally ranked academic programs rooted in the university's Christian mission. Located in suburban Birmingham, Samford was founded in 1841 and is the 87th oldest institution of higher learning in the United States. It enrolls 5,471 students from 44 states and 25 countries in 10 academic units including: arts, arts and sciences, business, divinity, and education.

In 2015, U.S. News and World Report ranked Samford 4th among regional universities in the South. Samford also has been nationally ranked for academic programs, value and affordability by such prestigious publications and rankings as Kiplinger's Personal Finance, The Princeton Review and Colleges of Distinction, among others.

Samford offers 30 undergraduate and graduate/professional degrees. There are 158 undergraduate majors, minors and concentrations. Graduate/professional degrees are offered in business, divinity, design studies, education, health professions, environmental management, law, music, nursing, pharmacy and public health. The university's College of Health Sciences is adding many new undergraduate and graduate/professional programs in the next few years.
History: Established in 1841
Enrollment: 5,471
Student-to-Faculty Ratio: 12:1
Graduation: 96% of students employed or in graduate school within 6 months of graduation
Academic Programs: 30 graduate and undergraduate degree programs, 10 schools
Athletics: Participates in 17 NCAA Division I sports
Geographic Diversity: Students from 44 states and 25 countries
87th oldest university in the United States
Nationally recognized for academic programs and affordability by Kiplinger's Personal Finance, Forbes, The Princeton Review

International Students CLICK HERE for Samford's Profile Sheet

CLICK HERE to visit Samford University's Website for International Students

Note: This institution is a CGE Member. Click the link to learn more about the Benefits of CGE Membership.
Samford University strives to engage students in international academic opportunities. With an ever-increasing enrollment in study abroad programs spread across four academic terms, Samford's International Studies Office is growing rapidly. For the Summer Term of 2008, Samford will send students to over ten countries around the world for courses ranging from History to Geography, Biology to Political Science, and more. We desire for students to not only learn about their subject in a new and relevant location, but also to have their lives enriched by the culture and personal growth experienced in our programs. Samford's London Study Center, the Daniel House, continues to be used by students and faculty as a springboard for international learning and global citizenship. The Daniel House runs year-round, with some terms seeing more than sixty students living and learning in London's Royal Borough of Kensington and Chelsea. Students and faculty returning from Samford University's study abroad trips say that their time abroad not only increased their knowledge of the subject they were studying, but also helped them understand what it means to live in a global society.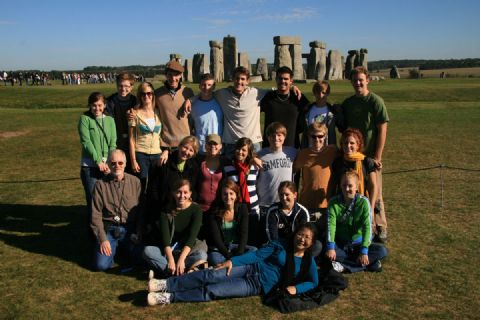 A group of Samford students explore Stonehenge during a semester spent in London at the Daniel House